Welcome!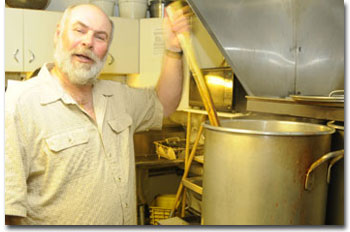 The Denver Catholic Worker Soup Kitchen is an ecumenical group of volunteers who have run a soup kitchen for 30 years to provide food for those who are in need. Our soup kitchen is in downtown Denver. The soup kitchen currently serves 30,000 meals per year.
There are hundreds of hungry people in the metro Denver area, and unfortunately, the need is increasing. There are hundreds of others who have the means to provide food, but are in need of personal transformation. The Catholic Worker Soup Kitchen is a place of honor, of privilege, and of joy for those who serve and for the recipients of the delicious hot meals.
COVID-19
DCWSK closed mid-March because of COVID-19. Until then, we prepared meals of soup, salad and desserts twice a week at Denver Inner City Parish, and served those meals at St Francis Center day shelter. We hope to resume that program once the virus situation is under control. 
Our volunteers are still busy. Individuals are preparing  sandwiches for St. Francis Center and other shelters trying to help the many people in need. If you would like to be part of this effort, please get in touch.   bpiyer28@yahoo.com
Click here to Email Us
Let us know what information you need. Include a telephone number if you want us to give you a personal call.